SecureVPN protects your internet browsing by tunneling your traffic through virtual private network servers while changing your real IP address. It helps to get around content location restrictions. The free trial offers a large data package initially- in which you can upgrade to the unlimited package. The SecureVPN app is available for download on Google Play.
SecureVPN secures your internet browsing via virtual private networks. In addition to changing your IP address, you gain added security of tunneling through a handful of servers thus avoiding location restrictions on content. The options are U.S., the Netherlands, Luxembourg, or Singapore. Using the app is super simple (if it works on your device).
Note: you will have to give the app permission to intercept your internet traffic. After that just tap the "Connect" button, it secures the connection and you're off!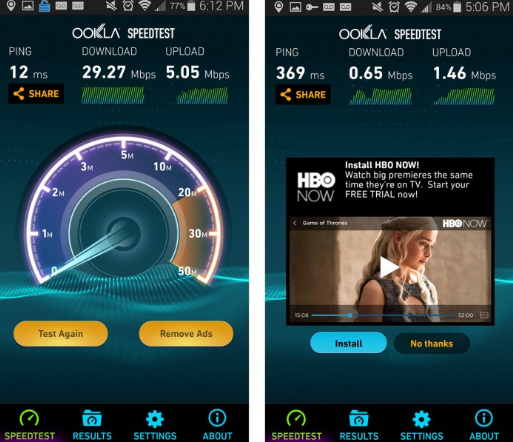 In a few other speed tests we were able to get up to 1.8Mbps download and 4.4Mpbs upload max. In summary of the screenshots above, the internet browsing speeds were significantly reduced in our evaluations. Upon performing a few online DNS leakage tests, however, I did not find evidence of my real IP address being leaked. This is reassuring to those looking for anonymity in VPN apps.
I personally do not like that upon initially using the app it states "Unlimited VPN Access" for free when this is not true. As the trial expires (which seems to be 5 days) you are prompted to upgrade but not obligated to subscribe. There are incentives to gain more free bandwidth by inviting contacts, rating the app, and following on social media. You do gain 1500 MB of VPN data for free within this window which resets each month. SecureVPN plans are $3.99/monthly or $34.99/annually.
SecureVPN indeed protects your internet sessions by tunneling through virtual private network servers. I did not find evidence of DNS leaks in several tests which is great for VPN anonymity. However, I could only get it to successfully work on one of three devices and the browsing speeds were significantly reduced- even though I am in the U.S. and opted for U.S. server. Be aware that unlimited VPN access label at the bottom of the trial is not entirely true. There is a limited time trial then a request to upgrade to unlimited pricing thereafter. Test out the app now and gauge for yourself!